Drums and Demonstrations
Drumming at demonstrations is as simple as getting a couple of drummers to find a song with a nice beat and practicing the different parts. But, if you want to explore when to play drums, when not to play drums, how to deal with police, how to run a practice, how to orchestrate your sound, and cast your group, then read on...
Why drums?
No one asks why people bring signs, and bullhorns to demonstrations, but drums have been a valuable tool in the struggle for social change, and they are resurging. They can bring rhythm and festive energy to otherwise staid vigils. Marches and demonstrations become livelier, more aggressive, more confrontational, and more fun. Drums say "No Business As Usual!" and "Let's Dance!" in a universal language. Drumming groups are more easily organized than melodic marching bands. Sonic disruption can raise the stakes of demonstrations, legally and nonviolently. Fellow demonstrators are encouraged by the beat, enlivened by the syncopation, and inspired to dance past mounted police into the streets.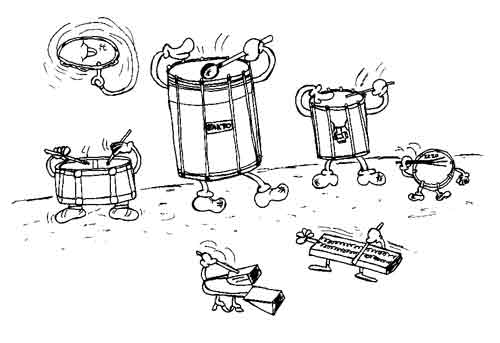 Drums can win our enemies over to our side by showing them that this modern world has not dehumanized us. Or, the noise alone may give them headaches; hypnotic rhythms can cause seizures, and bring our enemies frothing to their knees. Drums are the quintessential tool for disrupting bureaucratic meetings when you can't, or don't want, to go inside. Chanting only gets so loud, and there are tighter restrictions on amplified sound then acoustic music.
Drum Etiquette
Unfortunately, drums can also disrupt your own organization. If people aren't listening to each other, the music will be bad, and people won't be energized. Some crowds just don't like drums, period, even if they're really hot. Also, drumming for demonstrations generally means maximizing the volume in order to disrupt an event or reach a large crowd, but for the people right next to the drums, the noise can cause physical pain and permanent hearing damage. The social dynamics at demonstrations are different than drum circles. Know when NOT to play.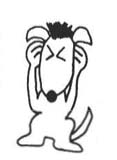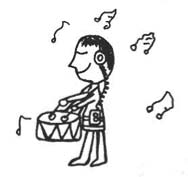 Playing along with chants
The message of drums is often ambiguous, so leave space for people who want to use words to clarify the issue. If you can organize it beforehand, find someone with a good sense of rhythm to lead chants that match your rhythm. Or have that person start a chant when you stop drumming. Make sure the chant leaders understands that they have to stay near the drums, and can't run ahead or fall behind. Try practicing a cycle of three measures of drumming, stop for a short chant of one measure (three or four syllables), then go back to drums.
Check out how the musicians and speakers take turns:
Unless people are used to chanting with you, they will tend to get out of sync with your beat. Avoid the temptation to keep following the rhythm of their chants. Either stop drumming and chant for awhile or keep playing your rhythm and hope the chanters catch on. You are drummers, they should be follow be following your rhythm.
Playing the exact rhythm as the chant keeps you in sync, but it makes it hard to understand the words, which defeats the purpose of the chant. A good strategy is to try starting by duplicating their rhythm, and then once the chanters are unified and you're solidly locked-up with their rhythm, try playing in the spaces where they are not chanting: "The people [ba-boom] united [ba-boom] will never be defeated [ba boom]."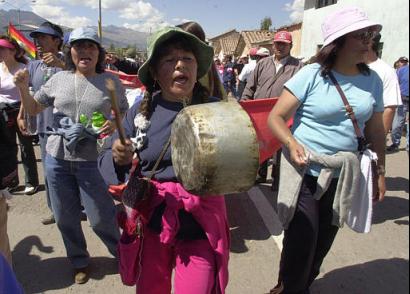 If you're really slick, you can lead chants yourself, while playing a simple drum part.
Playing along with other musicians
Because drums tend to overwhelm most instruments, it is courteous to always ask before playing along with other musicians, unless of course, you intentionally want to disrupt them. Folk music and singing are easily drowned out by a few drums. The same applies to other drummers, who are playing a specific piece that they have practiced beforehand. Don't jam along with Native Americans, or chanting monks. If you see a group of drummers who all have the same clothes, you should probably assume that they have rehearsed something ahead of time. When you didn't rehearse it and don't know what they're playing, it is a good idea to ask them if you can play with them before starting to just jam along, or wait till they're done and ask them when the next rehearsal is.

Playing at other times
Drums are most powerful when they are played sparingly and with discipline. It's annoying to hear drums during moments of silence, candlelight vigils,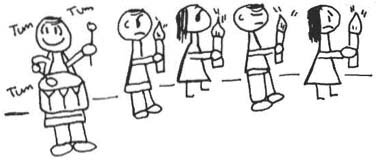 when people are speaking, or even when people are clapping (it's like saying, my expressions are more important than yours because my sound is louder). Drummers who aren't constantly evaluating their surroundings and the effect their drumming has on people, risk being totally obnoxious. It's a good habit to put your sticks away until you're ready to play as a group. We call this the "No noodling!" rule. Another way to put it is: "Don't play unless everyone else is also playing!".
While Marching
Keep the drum section together. Don't let drummers spread out. Playing in unison requires being able to hear the other members of your group, which becomes more difficult the farther away you get. The rows and columns of a marching band are difficult to maintain and give the group a militaristic look, but they serve to distinguish the drummers as a separate unit from the crowd, and keep them in physical proximity. A more organic way is to focus the drummers on a front or a center: a banner, a flag, a puppet, the biggest/loudest drum, etc. Try to set some boundaries: a ribbon that goes around the group, between two banners, dancers in costume, etc. The people in front need to glance back to make sure they're not going too fast. The people in back need to keep up at all costs, even if it means not playing for awhile. Avoid heavy drums, like congas or djembes, which take all your energy just to carry. Consider a lightweight Brazilian timbal instead.
Drums move people forward and should be put towards the front of the march. But march organizers need to understand that drummers move more slowly than most,because they have to play and walk at the same time. Don't split up the group unless each sub-group will have enough drummers to function independently, and they can be far enough away not to hear each other.
If you have to move through a dense crowd with a large drum, hold it over your head or try walking backwards so you don't smash people with the drum.
Non-drummers attracted to the music tend to seep into the group and push the drummers away from each other. Sometimes it's necessary to politely define a space that is reserved for drummers. Don't hesitate to push drunken idiots out of the way. If they're drunk, don't waste your time reasoning with them. When you reach your destination or stop for a long time you can switch to drum circle mode. Try forming a semi-circle and encourage people to dance in the middle. But when you're marching, don't let dancers enter the drummers' space. Keep them in front or behind. It's nice to have a few non-essential drummers roam around interacting with the crowd, occasionally moving into the dancers' space to do a solo. Don't let mosh pits form too close to you. If things get too rowdy, try backing up ten feet. This lets everyone cool down and reorganize.
Drummers who don't play are invaluable in helping to keep things together, dealing with the march coordinators, or the police, and passing out extra instruments to people who want to join in at the last minute.
Top
---


Media
Some people worry about the media images drums will create. Drums have not quite been defined by modern society, and the media will try to fit you into a category they've dealt with before: hippies, Africans, new-agers, Hare Krishnas, men's groupies, or something "tribal" or cult-like. The cacerolazo — banging pots and pans at protests — has recently become popular in Latin America, and is spreading faster than killer bees, making its way North and across the sea.

But whatever they call you, they probably will cover you, because the media loves loud energetic spectacles, and drumming makes a great sound bite.
Police

Be aware of the effect drums have on different people. Police often get agitated by things they don't understand, and they are intimidated by the sonic power that drums wield. Watch to see whether they are swaying to the beat or grimacing with tight sphincters. Don't provoke them unless you're ready for the consequences, but don't let them intimidate you either.

In the U.S., drumming is generally considered an extension of free speech, and is protected by the Bill of Rights. Though there are many laws and regulations against amplified sound, drumming is less defined legally. A carry over from the days of slavery, some public spaces specifically prohibit drums and other types of instruments. The drummers who played in front of the White House during the Gulf War were arrested when they played above a certain decibel level. Try to find out the local regulations before an event. Having a sympathetic lawyer to hang-out with you never hurts.

Drums can be considered weapons by the police. Never hold a stick or any other instrument when facing a police officer. It makes it too easy for them to nail you with an assaulting-an-officer charge. Watch your friends to see that they don't get carried away. When preparing your drums for a demonstration, leave anything club-like at home, especially things like metal pipes. If you have a broken stick, tape the end, or rub it on the ground to file it down, so that it can't stab anybody or look like a weapon.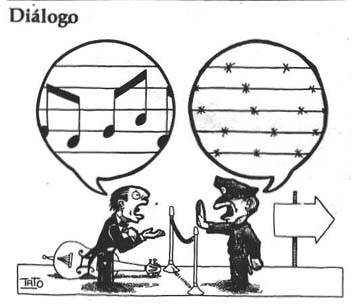 In an unplanned demonstration, police often will single out the most prominent person and attempt to stop the drums so they can negotiate with him. Always ignore the police when you're playing, unless an officer specifically gets in your face and tells you to stop. If officers come close enough that you might hit them accidentally while playing, try to move out of their way while continuing to play. If you can't move out of the way, stop playing, move quickly to a safe spot, and start playing again right away. Always ignore security guards, people in business suits, or anyone else with false authority. If you do stop, deal with them quickly and go back to playing ASAP. The life-giving aspects of music are highly susceptible to police intimidation.
If the police actually use violence on demonstrators, back off immediately. Decide as a group whether you're going to keep playing at a safe distance from the conflict, or get rid of your drums and join the fray. Having drums around in a chaotic situation is dangerous to you and the drums. If things get really hairy, and you can't get rid of your drums, you could try sitting down as a group. If your drum gets in the way of your personal safety, leave it. Don't bring anything to a demonstration that you don't mind losing.
Civil Disobedience
Committing civil disobedience (CD) with a drum is risky. Drums are fragile, they make you less mobile, and they can be considered weapons. But drummers make ideal supporters of CD because they instill courage through jail walls or police vans. Like most of the war drummers of the past, stay a little behind the vanguard, and concentrate on making good music.

Everyone going into a volatile situation should try to have civil disobedience training; most large actions offer them. If you have action guidelines that limit the militancy of the group, but aren't just lowest-common-denominator rules (the "Don't alienate the Liberals!" whine), then people will know what to expect from each other, they can feel safe bringing their kids
along, and the group will be less susceptible to damage done by FBI agents or crazies. Here is a common example of action guidelines which can be printed on quarter-sheets and handed out to everyone:

1) We will act nonviolently, with respect for all people we encounter. We will seek to express our feelings without verbally or physically abusing anyone.

2) We will participate (when possible) in a nonviolent action preparation to prepare and orient ourselves and to receive action-specific information.

3) We agree that we will not destroy property at this action.

4) We will not bring alcohol or other nonprescription drugs.

5) We will not bring firearms, explosives, or other weapons to the actions.

6) We will not run.

The above guidelines are relevant to most large CD actions and to most actions where you want drums. Different situations require different guidelines. If you're going to torch a police van then you can't really follow guidelines 3, 5, or 6, but then you're not going to want to have drums around to slow you down either.
Health and Safety
Besides being beaten by batons, sprayed with mace, hit by rubber bullets, and trampled by horses, drummers at demonstrations face other inherent dangers.
Protect your ears! Wear ear plugs at all times, when practicing and playing. It feels weird at first, and you have to rely more on visual rhythms to keep the beat, but you'll get used to it after awhile. Disposable foam pellets are cheap and the porous ones can thrown in the washing machine and dryer and re-used. Cotton balls, even clean toilet paper, works in a pinch. If you wait until your ears are ringing (tinnitus), it's too late, you have done permanent damage to your hearing.
Like any other exercise, stretch-out your joints and muscles before and after playing. Always play loose. Drummers who play tense and tight usually sound stilted and are more susceptible to injury. A great stretch is to hold your hands up and shake your fingers, wrists, arms, and shoulders for a few seconds. Here are some more stretches.
On long hot marches, drummers need to drink more fluids (non-alcoholic) to avoid heat exhaustion.
Wear your blisters with pride, and be reassured that eventually they will become calluses.